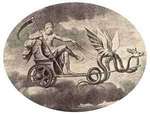 Coeus was one of the Titans, son of Uranus and Gaia. His name means questioning, while the respective Roman deity was Polus, the celestial axis around which the heavens revolve. Based on his Greek name, it has been suggested that Coeus may have also been the Titan of inquisitive minds and intellect.
Although Coeus does not have an active role in Ancient Greek religion, he was important through his children, Leto and Asteria, whom he had with his wife and sister, Phoebe. Leto was one of Zeus' lovers and gave birth to the twin Olympians, Artemis and Apollo.
During the Titanomachy, Coeus tried to stop Zeus and the other Olympians; failing, he and the rest of the Titans were banished to the Underworld.